Grammar For IELTS

Welcome to my Ultimate Grammar for IELTS Course.


Master all the grammar you need to score 7+ in easy steps
Whatever your current level of grammar, this course will get you to the standard you need to score 7+ for grammar in your IELTS exam. 
Learn step-by-step in 49 easy to follow lessons.
Choose to learn through ebooks or my video course.
Option 1: Ebooks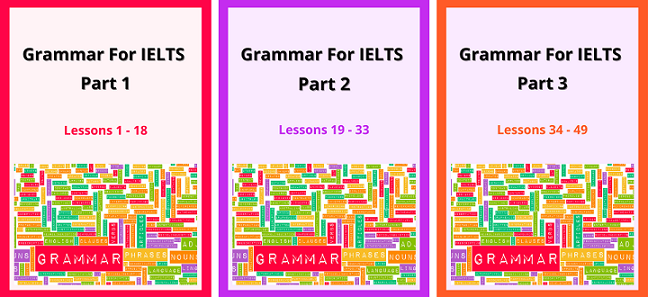 49 Lessons in 3 Ebooks
$9.99 each
$23.97 for the set of 3 – SAVE 20%
Option 2: Video Course
49 Video Lessons
+ PDF downloads
$45

Course Details
Grammar counts for 25% of the total marks in the Writing and Speaking tests. Poor grammar can seriously affect fluency and coherence which contribute another 25% to your score. So, it's vital that you:

Understand a wide range of grammar structures
Know which grammar structures to use in given situations



In the 49 lessons of the course, we'll work through everything from grammar basics to the advanced structures that will really impress the examiner and gain you the extra marks needed to score 7 and above.
Every single lesson will equip you with essential knowledge and skills and provide opportunities to practice them. The many practice activities will reinforce your learning and help you to retain the information.
The basis of all my teaching is "Show, don't tell". By this, I mean that I never just explain something. My proven method is to:
Provide activities to practice the skills
I also demonstrate how to use many of the grammar structures to answer specific types of IELTS questions with lots of examples.
Avoiding mistakes
Even high-level students let themselves down with very basic errors so we'll also learn how to avoid the common mistakes that cost so many candidates the score they want.
And, we'll discover exactly what the examiner is looking for in your answers and how to give it to them.
How you will learn
I understand that people learn in different ways and I want to ensure that I meet your needs. This is why you have the option of learning grammar for IELTS through ebooks or a video course. 

The curriculum is the same. You can see it below.
The ebooks give the added option of purchasing just one or two parts of the course if these are all you need, although there's a 20% discount for buying all three to make them extra affordable.
Comprehensive curriculum
My Ultimate IELTS Grammar Course covers every aspect of grammar required for your exam. Whether you're new to IELTS or have been working towards your ideal score for a while, it will bring you the success you desire.
You work through the course at your own pace with step-by-step guidance all the way.
Grammar For IELTS Ebooks
Check out the lessons contained in each ebook.
Grammar For IELTS – Ebook 1
Lesson 1:  Introduction

Lesson 2:  Simple & Complex Sentences
Lesson 3:  Present Simple – positive
Lesson 4:  Present Simple – negative
Lesson 5:  Present Simple – question
Lesson 6:  Present Continuous
Lesson 7:  Past Simple – positive
Lesson 8:  Past Simple – negative & questions
Lesson 9:  Past continuous – positive
Lesson 10: Past continuous – negative & questions 
Lesson 11: Present Perfect Simple
Lesson 12: Present Perfect Continuous
Lesson 13: Past Perfect Simple
Lesson 14: Past Perfect Continuous
Lesson 15: Present Simple & Continuous 
Lesson 16: Future Simple
Lesson 17: Future Continuous
Lesson 18: Future Perfect Simple & Continuous
Common Irregular Verbs
Common State Verbs
Grammar For IELTS – Ebook 2
Lesson 19: Nouns – Countable & Uncountable

Lesson 20: Compound Nouns
Lesson 21: Articles
Lesson 22: Determiners 1 – Qualifiers
Lesson 23: Determiners 2 – Possessives & Demonstratives   
Lesson 24: Pronouns
Lesson 25: Prepositions 1 – Time
Lesson 26: Prepositions 2 – Position
Lesson 27: Prepositions 3 – Movement & Direction 
Lesson 28: Prepositions 4 – Noun-Verb-Adjective Collocations
Lesson 29: Adjectives 1
Lesson 30: Adjectives 2
Lesson 31: Adverbs 1
Lesson 32: Adverbs 2
Lesson 33: Comparatives & Superlatives
Common Irregular Verbs

Common State Verbs
** Download a free sample lesson here: Lesson 22: Determiners 1 – Qualifiers
Grammar For IELTS – Ebook 3
Lesson 34: Modal Verbs 1

Lesson 35: Modal Verbs 2
Lesson 36: Modal Verbs 3
Lesson 37: Subject-Verb Agreement 1
Lesson 38: Subject-Verb Agreement 2
Lesson 39: Verb Patterns 1 - Transitive & Intransitive Verbs
Lesson 40: Verb Patterns 2 – to-infinitive or -ing
Lesson 41: Conditionals 1 – Zero, 1st & 2nd
Lesson 42: Conditionals 1 – 3rd & Mixed 
Lesson 43: Relative clauses
Lesson 44: Linking ideas 1
Lesson 45: Linking ideas 2
Lesson 46: The Passive
Lesson 47: Reported Speech
Lesson 48: Punctuation
Lesson 49: Phrasal verbs
Common Irregular Verbs

Common State Verbs
** Download a free sample lesson here: Lesson 34: Modal Verbs 1
---
---

Grammar For IELTS Video Course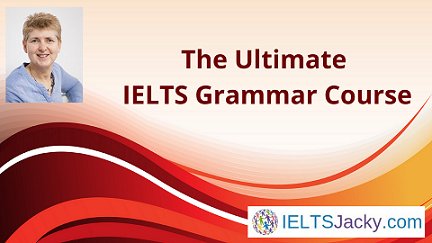 My grammar for IELTS video course covers the same curriculum as in the ebooks. It includes:
Lists of Common Irregular & State Verbs
The PDFs are ideal for revision or to quickly find information you want to go over again. Many students use them to do the practice activities.
Click the link to see the full curriculum and join the course.
The Ultimate IELTS Grammar Video Course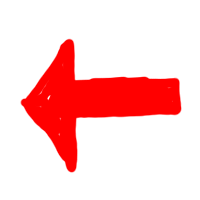 NO RISK 30 day money back guarantee.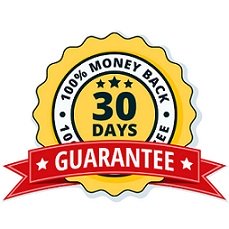 Not sure if my Ultimate IELTS Grammar Course is right for you?
With my 30 day money back guarantee on both the ebooks and my video course, you can try out the course RISK FREE. If you don't find it helpful, let me know via my Contact page and I will refund your money.
Your success
Whether you choose to study grammar for IELTS through my ebooks or videos, by the end of the course you will:

Have mastered all the essential grammar you need for IELTS
Be able to use it confidently to answer all question types
Be well prepared to score 7+ for grammar



Have improved your score for other marking criteria
The sooner you get started, the sooner you'll be celebrating success in your exam.
Come and join me in the course so that we can work together to get you the IELTS score you deserve.
My IELTS for Grammar Course is your route to the 7+ band score you need.