IELTS Listening


On this page, you'll find links to all my IELTS Listening lessons. I've brought them together in one place so that you can find what you need easily. They include:
Everything has been created to save you time as you prepare for your IELTS Listening test.
---

IELTS Listening Test 
 

–

 

 Information & Lessons

Essential information including the format of the test, what skills are assessed & marking tips. More...
---
---

The 10 Question Types


Lessons on how to answer each type of Listening question. Each lesson includes:
---
---

Practice Tests
Short practice activities – improve your listening skills & learn topic vocabulary. More...
Genuine full practice tests in an easy to follow format with the recordings & questions on the same page and audio transcripts included. Use them as part of your listening practice.

IELTS Listening Ebook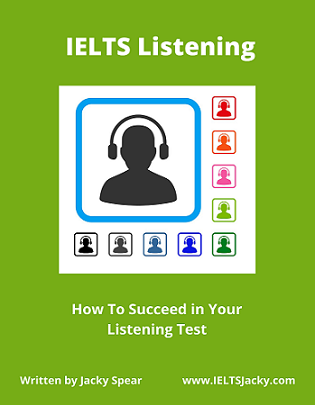 IELTS Listening Videos


You'll find videos of all these IELTS listening lessons on this page: IELTS Listening Videos

These 3 videos are a good place to start.
All the essential information you need to know.
The top 3 listening strategies to learn for a high score.

The 4 key listening skills & how to use them.

On the listening videos menu page, you'll also find videos of the lessons on the 10 different types of Listening questions as well as all the other key listening lessons. 
And, don't miss the lessons on listening vocabulary. There are several types of vocabulary that are essential for you to know for the Listening test. You will struggle to get a high score unless you understand them and can use them correctly.
Here's the link to the IELTS Listening Videos page again.
---
---
---
---