IELTS Writing Essays
How To Write a Task 2 Conclusion
If your introduction and main body paragraphs are structured correctly, writing conclusions to Task 2 IELTS writing essays is very simple.

This lesson follows on from those on how to write introductions and main body paragraphs so, if you haven't already studied them, I recommend that you do so now. You'll find them here:
On this page, you'll learn:

Why a good conclusion is important
4 common mistakes to avoid
The structure of a good conclusion
How to write the perfect conclusion
Want to watch and listen to this lesson?
Click on this video.

---

Why a Good Conclusion is Important


High-scoring Task 2 IELTS writing essays have a simple 4 part structure:

1)  Introduction
2)  Main Body Paragraph 1 
3)  Main Body Paragraph 2 
4)  Conclusion
Although your conclusion will only be 1 or 2 sentences long, it's as important as each of the other sections of the essay and you will miss out on valuable marks if you don't include one.
A good conclusion will:
Link all your ideas together
Sum up your argument or opinion
If you do this well, you'll improve your score for both task achievement and cohesion and coherence which together make up 50% of the overall marks.
Without a conclusion, you'll score below band 6 for task achievement.
---

4 Common Mistakes to Avoid


First, let's consider what students should not do when writing conclusions to Task 2 IELTS writing essays.
You should not:
Introduce new evidence or examples.
Do not add any new information. The purpose of this final paragraph is to summarise what you've already said, nothing else.
Many candidates write conclusions that are far too long. A lengthy conclusion isn't necessary. Also, you won't have much time left in which to write it, so keep it short. Follow the simple guidelines I'm about to give you.
Another common error is to write a concluding statement about the topic in general. A big mistake. You must be specific. Your conclusion must relate directly to the question and sum up the specific ideas in the main body of your essay.
---

The Structure of a Good Conclusion


The ideal conclusion has 1 or 2 sentences:
Sentence 1 – a summary of your main ideas.
Sentence 2 – a prediction or recommendation statement. (optional).
This second sentence is optional but perfectly acceptable if you do want to add one. It is useful if you find that you're just below the word limit when you finish your essay and need just one more sentence to get you over the minimum 250 words.
If your essay is already long enough, leave it out as it won't earn you extra marks. Your time will be better spent checking your grammar and spellings.

The Summary Sentence
Your summary sentence is the one that's essential, so we'll begin with this. We're going to add a conclusion to the essay we worked on in the lessons on writing introductions and main body paragraphs for Task 2 IELTS writing essays.
Here's the question:

Here are the introduction and main body paragraphs: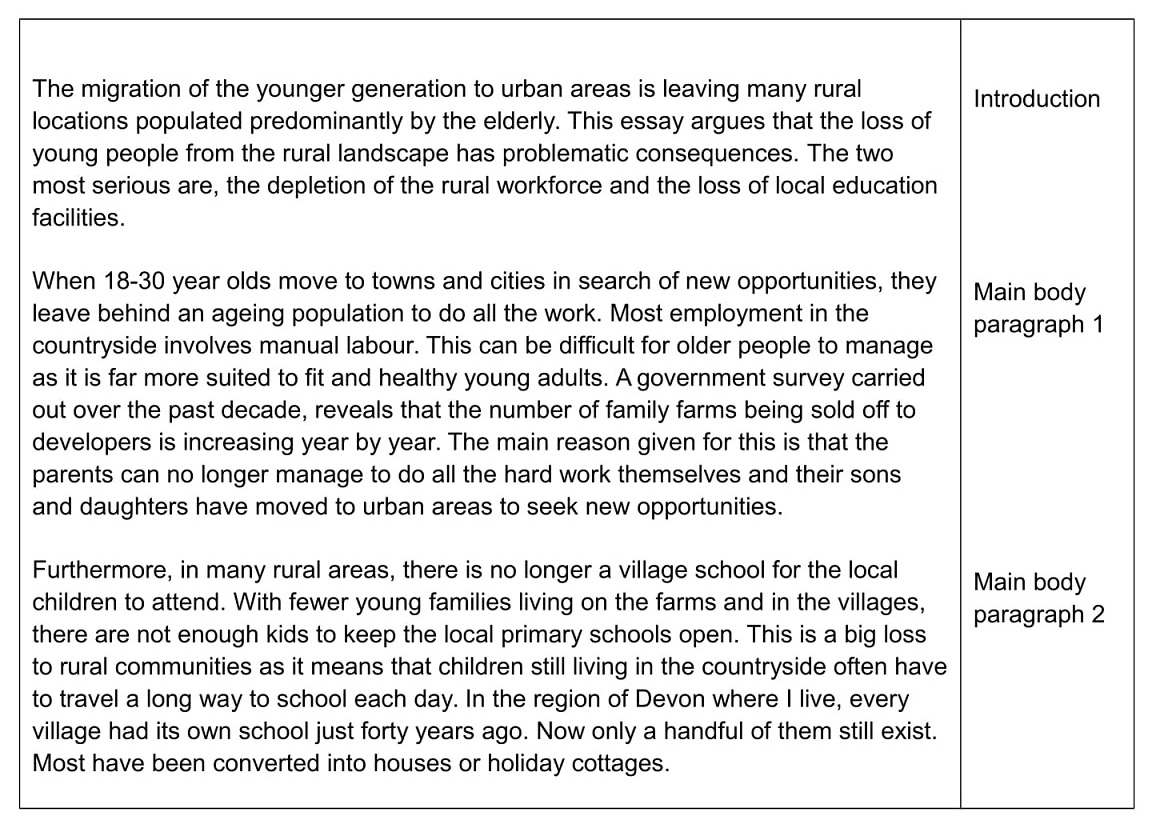 The first few words of a summary sentence are extremely important. The good news is that you can use the same phrase for almost any Task 2 IELTS writing essay. I recommend that you use:

These cohesive devices do two jobs:

They link this final paragraph to what has been written previously.
They make it clear to the examiner that you are about to summarise your answer to the question.
There's another piece of good news. If you followed my instructions on how to write a good introduction to your essay, your introduction will be a summary of what your essay is going to include.
Since your conclusion is about what the essay did include (your opinion and the main points), all you need to do now is to paraphrase this same information.
Here's the introduction:

Here's the same information formed into a conclusion:
Summary sentence: In conclusion, the significant rise in the average age of people living in rural areas has resulted in a lack of suitable people to fill the workforce and the closure of the majority of village schools, causing hardship to local communities.
Study the way I've used synonyms and a different sentence structure to form this conclusion from the introduction. This really is all you need to do.
The Prediction or Recommendation Sentence
Finally, let's consider the optional prediction or recommendation sentence. What do these two words mean?

A prediction is a statement about what you think will happen in the future.
A recommendation is a statement about what you think should happen in the future.
Here are examples of each type of sentence that you could use for this Task 2 IELTS writing essay:

It is predicted that there will be a steady increase in young families moving to country locations in the coming decade as parents seek a more relaxed lifestyle for themselves and their children.
It is recommended that governments should improve public transport and provide affordable village housing to encourage young people back to rural areas.
Sometimes it will be appropriate to use 'I predict that…' or 'I recommend that…'.
With our conclusion written, the essay is complete. Here is the final version. It is well over the 250 minimum word limit so, no prediction or recommendation sentence is needed.
         Finished essay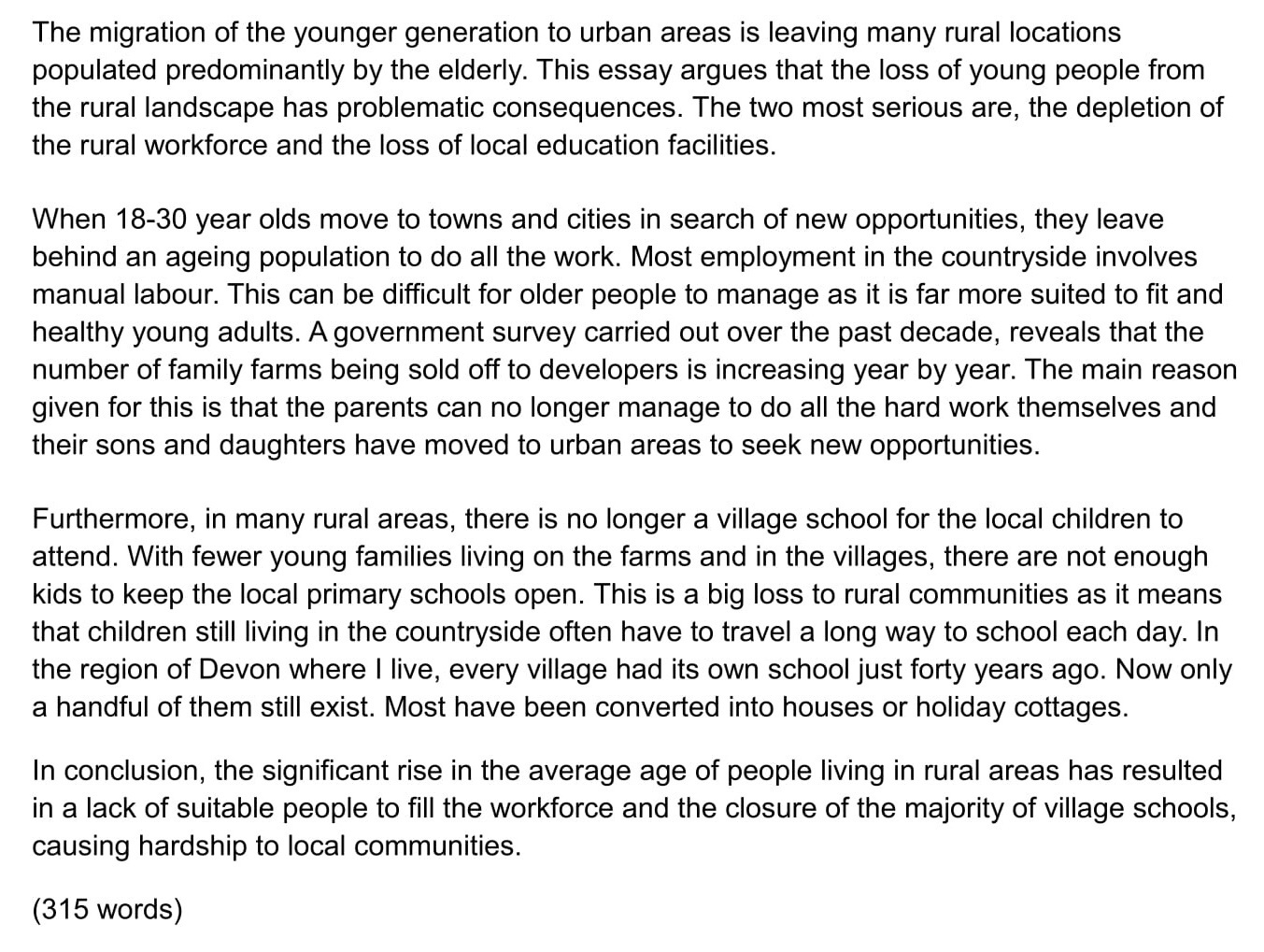 Learning to write good Task 2 IELTS writing essays takes a lot of practice. Use this lesson and the two on introductions and main body paragraphs to learn the technique, then do as much practice as you can on all five question types.
Take as long to plan and write your essays as you need to at first. Gradually speed up the process until you can finish your essay within the 40 minutes allowed.

More Help With IELTS Writing Essays


IELTS Writing Test – Understand the format & marking criteria, know what skills are assessed & learn the difference between the Academic & General writing tests.
IELTS Writing Tips – Top 10 tips to bring you success in your writing test. Essential information you need to know to achieve a high score.

Task 2:
How To Write a Task 2 Introduction – Find out why a good introduction is essential. Learn how to write one using a simple 3 part strategy & discover 4 common mistakes to avoid.
How To Write Task 2 Main Body Paragraphs – Learn the simple 3 part structure for writing great main body paragraphs and also, 3 common mistakes to avoid. 
IELTS Writing Task 2 – The format, the 5 question types, the 5 step essay writing strategy & sample questions. All the key information you need to know.
The 5 Types of Task 2 Essay – How to recognise the 5 different types of Task 2 essays. 15 sample questions to study and a simple planning structure for each essay type.
Understanding Task 2 Questions – How to quickly and easily analyse and understand IELTS Writing Task 2 questions.
How To Plan a Task 2 Essay – Discover why essay planning is essential & learn a simple 4 step strategy, the 4 part essay structure & 4 methods of generating ideas.
Task 2 Marking Criteria – Find out how to meet the marking criteria in Task 2. See examples of good and poor answers & learn some common mistakes to avoid.
The 5 Task 2 Essay Types:
Step-by-step instructions on how to plan & write high-level essays. Model answers & common mistakes to avoid.

  Advantages & Disadvantages Essays
---