IELTS Speaking Questions


Although you won't know what IELTS Speaking questions you'll get on the day of your test, you'll be well prepared if you practise answering questions on common topics.
I have lots of practise questions ready for you to work with, including 30 mock tests like this:


Topic:
Birthdays, Celebrations & Presents
Part 1
Do you enjoy celebrating your birthday?
What did you usually do on your birthday when you were a child?
Do you think the price of a present is important?
Do you like the age you are now?
Part 2

Describe a present you gave to someone.
You should say:
what it was
who you gave it to
why you gave them a present
and explain why you chose this present.
Part 3
- Is it important to celebrate family events?
- What are the main reasons why people organise family parties in your country?
- Are any old traditions related to particular times of year in your country disappearing?
- Do you think any festivals or celebrations in your country are over-commercialised or have lost their original meaning?
- What local festival in your area do you think would be most interesting for a foreign visitor?
- Some people think that national celebrations are a waste of government money? Do you agree or disagree with this view?
---
---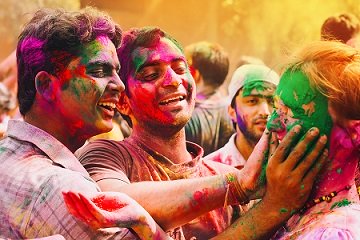 Celebrating Holi, a colourful Hindu festival that marks the arrival of spring.
There are many subjects that come up regularly in all parts of the exam and the practise you do for the Speaking test will help you with Writing, Reading and Listening as well.
Discover 40+ common subject areas and related sub-topics here: IELTS Speaking Topics.
---

IELTS Speaking Questions - Practise Cards

Many of the pages in this section of the website contain practice IELTS Speaking questions but I've also created a special resource for you that you can use for mock tests, either on your own or with a partner.

It consists of:
330 IELTS Speaking questions
Each card has Part 1, 2 and 3 IELTS Speaking questions set out like the example above. These are the 30 common topics they cover:

---
1) Animals

2) Architecture & Buildings
3) Art
4) Books
5) Clothes & Fashion
6) Communication
7) Daily routine
8) Education
9) Environment
10) Family
11) Film & TV

12) Food & Cooking
13) Friends
14) Health
15) Hobbies & Leisure
16) Holidays, Travel & Tourism
17) Homes & Accommodation
18) Hometown, Towns & Cities
19) Media
20) Money
21) Music

22) People & Relationships
23) Photographs
24) Plants
25) Shopping
26) Sport
27) Technology
28) Transportation
29) Weather & Seasons
30) Work
---
---
---
---
---
---

How to Use the IELTS Speaking Practise Cards

1) Print them out, ideally onto card, or laminate them so that you can use them over and over again to create different answers.
2) Don't read the questions until you are ready to do a mock test or it won't be realistic.
3) Work on your own or with a partner so you can both take turns at being the examiner, asking the questions and timing the test.
4) Pick a card at random and answer the questions for each of the three parts of the test in the time allowed in the real exam.
If you're not sure of the format and timings of the Speaking test, check them out here:
5) If possible, record yourself speaking so that you can play it back later to identify what you most need to work on.

Important Skills

You can also use these IELTS Speaking questions to practise the key skills I teach on other pages, especially, how to plan Part 2 answers and make the best use of your 1 minute preparation time.

If you use the questions in this way, you don't need to worry about keeping to the timing of the exam.
You can learn three different strategies for planning your 2 minute Part 2 talk on these pages:
Part 2 Planning Strategy 1 – question prompts.
Part 2 Planning Strategy 2 – brainstorming.
Part 2 Planning Strategy 3 – using the 5 senses.
Most of the practise questions have several possible answers so can be used in both for mock tests and skills practise.
* Important – Don't ever try to memorise answers. Here's why:

You are unlikely to get exactly the same question in the exam.
Your speech will sound unnatural.
The examiner will recognise a scripted answer immediately and won't be impressed.

Vital Information

Before you start working on the practise IELTS Speaking questions, there's some vital information that you need to know.

There's no point putting in hours of practice unless you know:
Exactly what you will be assessed on
What the examiner is looking for
The common mistakes to avoid
So please make sure that you've read the pages that cover all of these issues. You'll find them here:
The IELTS Speaking Test: Know the format & understand what you'll be assessed on. Discover the main reason for low scores & how to avoid this big mistake. 
IELTS Speaking Tips: 9 top tips to increase your chances of getting a high score.

IELTS Speaking Part 1: 7 simple methods for developing your answers, with examples.

IELTS Speaking Part 2: 5 common reasons why people get a low score & how to easily avoid these serious mistakes. Plus, the #1 way to ensure success.
Part 2 Introduction: How to begin your IELTS Speaking Part 2 talk & top tips for gaining extra marks.
IELTS Speaking Part 3: 6 common types of questions & how to answer them.
It will also help you hugely if you can learn to think in English. It's easier than you think. Find out how here:
IELTS Speaking Practice: learn how to think in English.
---

IELTS Speaking Questions & Answers

You will learn a lot by studying sample answers to IELTS Speaking questions. There are plenty of these on the website as well. You'll find one of the most popular resources in the vocabulary section. 
Each of the topic vocabulary pages includes topic-related sample IELTS Speaking questions and answers as well as extensive lists of topic-related vocabulary. These pages are all listed in the side menu on the right of this page, with more being added regularly. 
You can also use these to create your own answers for even more practice. à à àà 
---
---
---
---