IELTS General Reading Test
The IELTS General Reading test is slightly different in format to the Academic Reading test and is taken for a different reason.
We'll start by discovering why you would choose the General test and then, I'll give you all the information you need to understand the test, including samples from real IELTS test papers.
Here's an outline of what we'll be covering: 
Why take IELTS General Reading
Links to my step-by-step strategy pages for the 12 question types
---

Why Take IELTS General Reading
When choosing which IELTS exam to take, the most important consideration is why you need an IELTS qualification.
IELTS General Training is for people wanting to work in or emigrate to the UK, Ireland, Australia, Canada or New Zealand. It is widely accepted for,
Visa and employment applications

 
Education at high-school level

 
Non-academic training such as practical vocational courses
Your test result is used by various institutions to help them decide if you will be able to study, work or live successfully in the country to which you are applying.
The British Council website has a very useful search facility that will give you valuable information on employers, governments, immigration authorities and professional bodies around the world that accept IELTS, and the minimum band score requirements for each.
It will also tell you which IELTS test would be most appropriate for the industry you want to work in.
Find it here.
---

The Test
Timing 

60 minutes
Test Format
The IELTS General Reading test is made up of three parts and a total of 40 questions. You are recommended to spend 20 minutes on each section.
Here is the structure of the 3 sections and an idea as to the types of texts they will contain.
Section 1 – two or three short factual texts related to everyday life (e.g. hotel evacuation procedure, a series of related advertisements, a course outline).

Section 2 – two short factual texts related to work (e.g. job description, staff training, disciplinary procedures).
Section 3 – one longer text of greater complexity (e.g. general interest texts from books, newspapers, magazines, company brochures or handbooks).
All the topics will relate to everyday life in an English-speaking country.
There are 12 main types of questions:
Click the links to see a step-by-step strategy and 'how to' example for answering each type of question.

This wide variety of question types is used in order to test a broad range of reading skills.
Skills Assessed 
The Reading test is designed to assess your ability to:
Understand logical argument 
Recognise writer's opinions, attitudes and purpose
Marking 
Each correct answer is awarded 1 mark. Your score out of 40 is converted to the corresponding IELTS band scale level.
---

Sample IELTS General Reading Tests
These sample IELTS General Reading tests come from one of the official IELTS websites where they can be downloaded for free. There's a link to it below.
They cover three different question types:
Matching Features 

/ Name Matching
Use them to get familiar with the layout of the instructions and as practice tests to improve your skills in preparation for your reading exam.

I've added a PDF of each sample test that you can download to make it easier to work on.
All the answers are at the bottom of the page.
Sample Test 1 – Matching Headings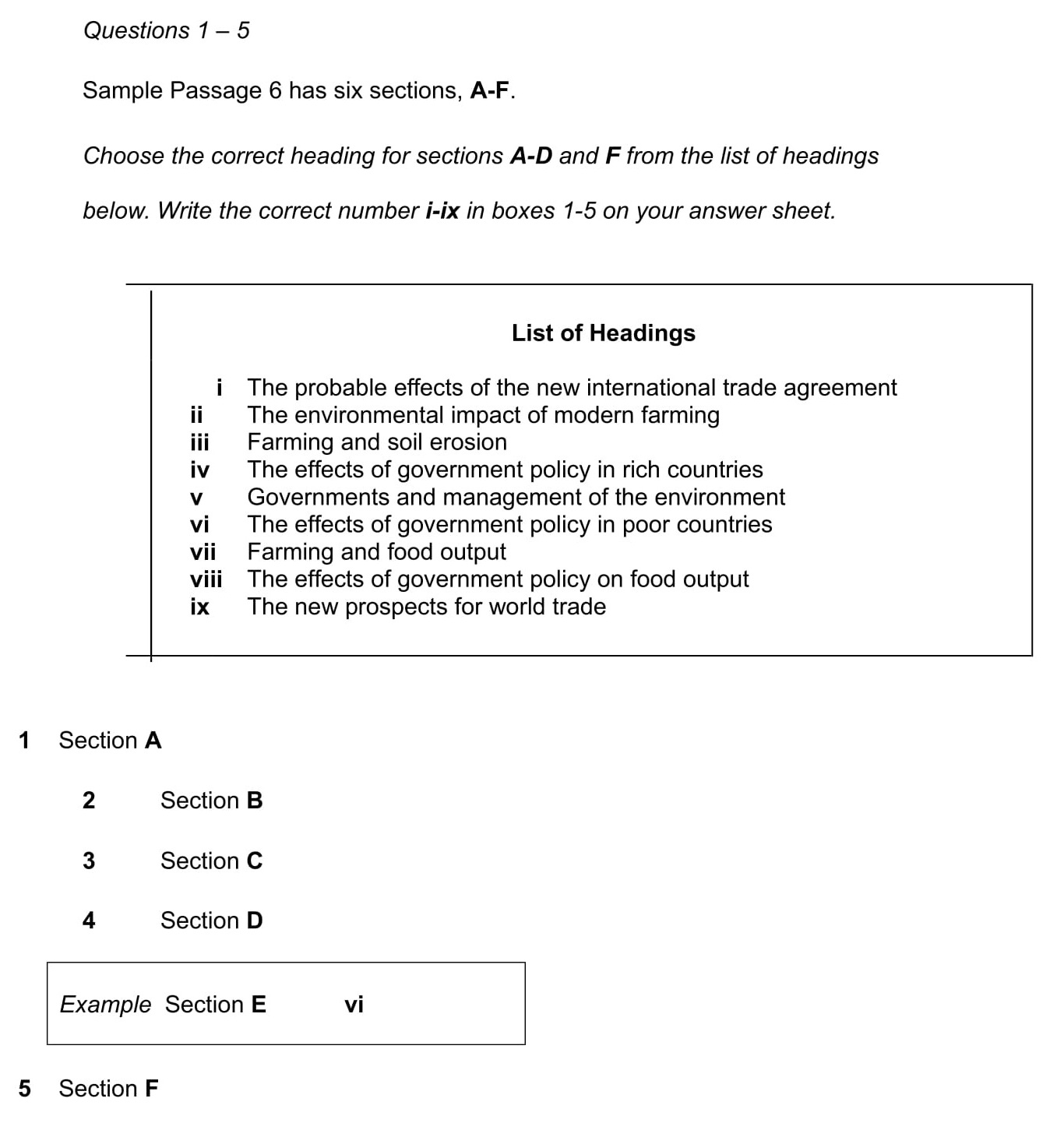 Matching Information questions come in various forms and can all be answered using my Matching Paragraph Information strategy.
Click this link for my Step-By-Step Strategy for Answering 'Matching Headings' Questions.
---


Sample Test 2 – Matching Features / Name Matching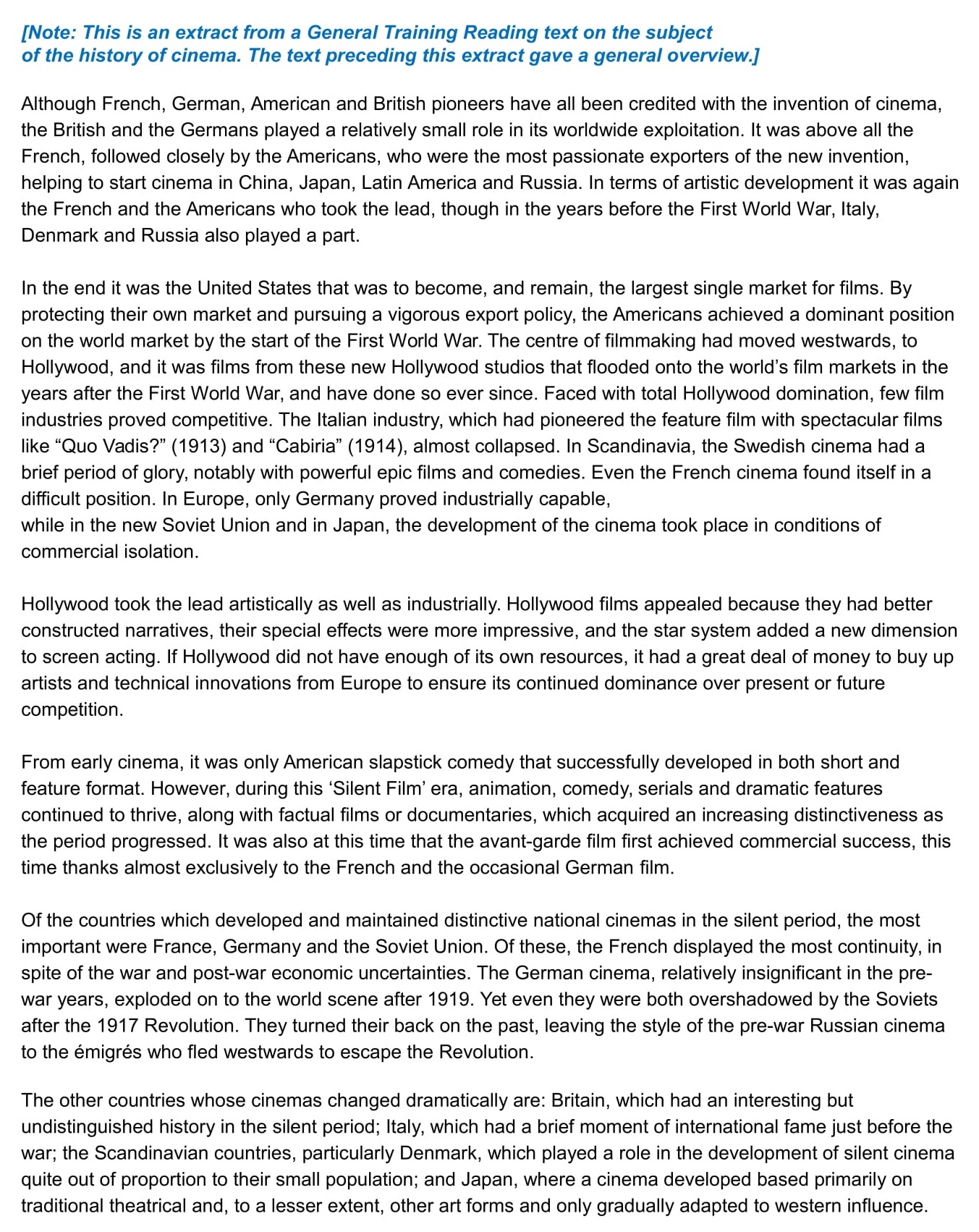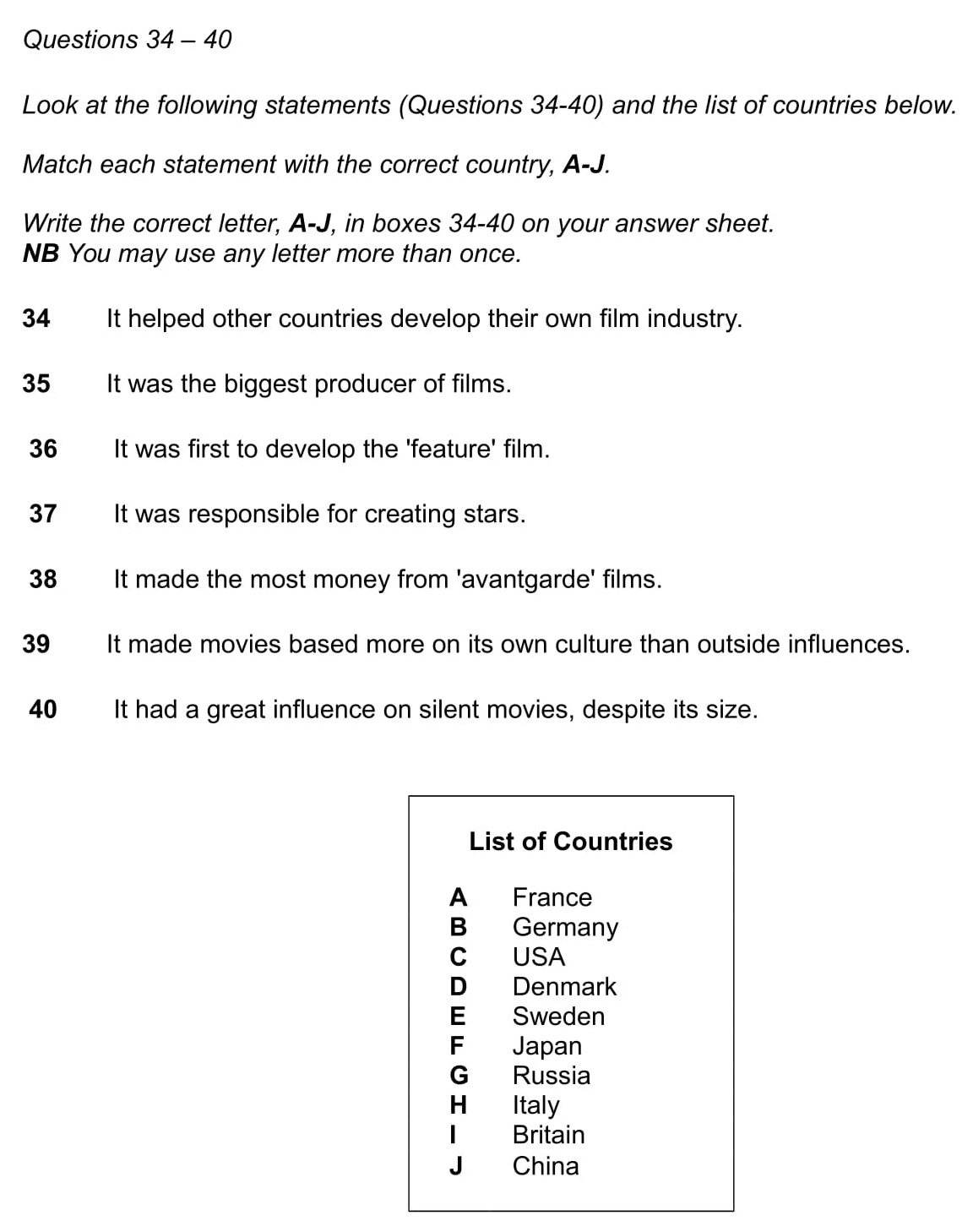 Matching Features and Name Matching are slight variations of one type of question and can both be answered using my Name Matching strategy.
Click this link for my Step-By-Step Strategy for Answering 'Name Matching' Questions.
---


Sample Test 3 – Short Answer Question

Click this link for my Step-By-Step Strategy for Answering 'Short Answer' Questions.
---
Answers
  Test 1 – Matching Headings 
      1   v              
      2   vii              
      3   ii             
      4   iv   
      5   i

  Test 2 – Matching Features
   34  A                      38  A 

   35  C                      39  F
   36  H                      40  D
   37  C
  Test 3 – Short Answer
   4   pieces of metal 
   5   (on) the bottom 
   6   $5
   7   (the) retail manager  
   8    $50,000
Words in brackets are optional - they are correct, but not necessary.

Click this link to find out more about the Academic Reading Test.